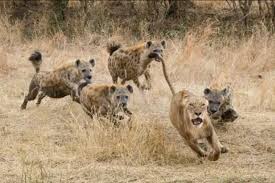 Just as a lion can be cornered by hyenas, you too can be cornered.
As a kid, I was often intrigued by stories of lions. But as I grew up, I discovered that they don't always win, even though they are powerful. Like lions, we are built to conquer. But life can still hit us with a crisis, capable of weakening us.
But when we are at our weakest point, our ability to bounce back will largely be determined by our relationship with God. The psalmist said, "The lions may grow weak and hungry, but those who seek the Lord lack no good thing" (Psalm 34).  
No matter what you are going through; you can get back on your feet if you would only trust God.
Written by Ben Dankaka